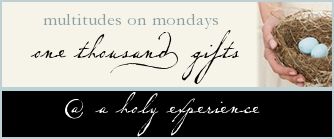 I am joining the Gratitude Community, with the aim of listing 1000 things I am grateful for, gifts from the hand of God.
1. My parents, who love me. 2. My cello. My cello, my cello, my cello. 3. A warm bed 4. A new job 5. Friends who are good at keeping in touch 6. My sisters – all four of them 7. Books – in general 8. New hooks for the back of my door – so much easier to keep things straight 9. Flights booked for friends to come and visit! 10. Everyone who wants to write for Completely Devoted – I'm completely excited! 11.Pencils 12. Snuggling up with my nephew Justin 13. Productive cello practice 14. Skype conversations 15. Winter sun on snow-covered fields 16. Trains that ran perfectly on time in bad weather 17. Kind co-workers 18. Hot showers 19. Creativity 20. People who miss me too 21. The Bible in English 22. New house, which has a piano and a cat 23. Alli 24. Debs, being kind enough to pray 25. Great weekend with Hannah, my sister 26. Betsy, who always understands 27. Grace, which has brought me safe this far, and will lead me home. 28. Skype chats with Anna Gillette 29. Karri, who always prays for me on Mondays 30. Beth Mitchell – one of the most trustworthy women I know 31. Helen Hein, who always makes me laugh, and who knows what it is to worship. 32. New sheets and towels – housewarming gift from my Mama. 33. Digital cello tuner – makes life so much easier! 34. Great new housemates 35. Cups of tea 36. Playing piano 37. Having dinner made for me 38. Lazy Saturday mornings 39. Talking with Teri 40. Working part-time 41. Bus stop right outside my house 42. Mittens and hats 43. My warm coat with fur around the hood – thanks to Jodie! 44. Becky Doyle 45. Sarah Field 46. People who believe in me 47. Unexpected pay rises 48. Resources right to hand 49. Lessons going well 50. Children behaving! 51. Getting a ride home with Hannah 52. Feet up at the end of a long day 53. Frosty branches against red sunrises 54. A day to myself 55. New books to read 56. Writing 57. Encouragement from people I respect 58. Flute playing 59. Kind words 60. Fun evenings with friends 61. The presence of God as I preach 62. Sunlight on Cambridge brick 63. A beautiful city to live in 64. Clear blue skies 65. Winter sunshine 66. Time just to read this morning 67. Warmth 68. Hot water 69. Forgiveness 70. Fresh sheets 71. Smell of clean laundry 72. My computer that still works in spite of numerous time I drop it! 73. Inspiration 74. Sweet phone chats with Justin 75. Skyping with Alli 76. Phone chats with Hannah 77. Encouragement 78. Pay day 79. People who offer to lend me their car 80. Worshiping with the community of God's people 81. Being part of the church 82. Sweet phone calls with Justin 83. Steamy windows 84. Soft towels 85. Being clean 86. Getting paperwork done 87. Feeling God's smile 88. New songs 89. Good hair days 90. Living in a house with a tumble drier 91. Friends who lent me their car… 92. ..and paid for the insurance… 93… and paid for the gas… 94… so I could go and visit a friend who is in town from overseas 95. snuggly cats 96. saying sorry 97. new blog touching many women already
(www.completelydevoted.wordpress.com)
98. Sweet messages from friends 99. Daily bread 100. New hotwater bottles with cute covers 101. Going to school days 102. Not going to school days 103. The taste of tea made from a teapot 104. Invitations to weddings I can't go to 105. The 'happy ever after' of friends 106. Remembered conversations in pubs 107. Listening 108. Candlelight 109. Saying it how it is 110. Being understood 111. Soap bubbles 112. Clean dishes 113. laundry days 114. Picking up socks from the floor 115. Mousse to tame wild curls 116. Travel mugs 117. Pointy boots and high heels 118. My my my heart like a kick drum! 119. Crazy dreams and waking up to relief that they are not true! 120. Cozy dressing gown 121. Letting go of expectations 122. Remembering that all is gift 123. Remembering that nothing is deserved 124. People on buses 125. New friends 126. Lamplight 127. Rosin on cello bow 128. Adding slowly to cello skills 129. Letting go 130. Bex cooking dinner tonight 131. Not missing the bus 132. Cozy blankets 133. People who have tea in their house because they know I like it 134. Remembering that I KNOW whom I believe… 135. Piles of books on the floor 136. Freshly baked banana bread 137. Waking up to nice messages 138. Making lists… 139. …and checking things off 140. New mercy for this morning 141. Heads over bowls of steam 142. Sympathetic colleagues 143. Spending time with my sister Hannah 144. Sweet notes from children I teach 145. Clean pj's 146. Skype dates 147. People who keep their word 148. Lengthening daylight 149. Short nails 150. Piles of books, all read, all known, all loved 151. Sky merging blue and yellow at dusk 152. Sleepy cat at the end of my bed 153. Shadows 154. Rain on my face 155. Realizing I lost my hat in time to find it 156. House to myself for a while 157. Wise words of friends 158. Someone who always seems to be able to make time for me – you are rare and treasured. 159. Cambridge market stalls 160. Snowdrops and crocuses – the first signs of spring 161. Piles of folded clothes, clean and dry 162. A gift of  
£500!
163. Words of encouragement, right when I needed them!
164. Giving and receiving
165. Friends coming over for dinner
166. Thorough house clean!
167. List-messages
168. Unexpected car for a few days
169. Pay day
170. Coffee dates
171. Kindnesses from God that are completely undeserved
172. Songs that perfectly express how you feel
173. Line-dried-laundry
174. Daffodils
175. Rides
176. Nail Polish
177. Summer plans
178. Freedom
179. "I understand the quirks of your heart" – thank you
180. Going out night
181. New make-up
182. Justin's giggle
183. Healthy baby Hope
184. That bus driver who stopped for me
185. The story not being over yet
186. The right words prayed
187. Appreciation from colleagues
188. A really nice day with the children
189. Answered prayers
190. Timely emails
191. FINALLY being able to start my Masters!
192. Beautiful blossom
193. Magnolia trees
194. Daffodils still blooming
195. Lighter nights
196. Bought ribbon
197. Newly discovered authors to love
198. New dresses and shoes
199. Dancing at weddings
200. College friends
201. People you can be real with
202. Friends who don't care if you cry
203. Avocado
204. Sweet hugs
205. Getting good pictures of baby lambs
206. New mugs
207. Chocolate
208. Magnolia Trees
209. Inspiration and help with Completely Devoted!
210. "Travelling Mercies"
211. "Bird by Bird"
212. Funny moments with the children at school
213. Good conversations with my boss
214. The 'small picture' being enough
215. Freedom 216. The fact that I can call my sister Hannah late at night or early in the morning and both are fine, even on the same day. 217. New matching underwear 218. Ideas for writing 219. Ideas for blogs 220. Dinner with friends 221. Finally dusting my book shelves… 222. …and reorganizing the books 223. Starting to study 224. Being loaned a car for the week 225. Peanut m & m's   226. Family time 227. Catching up with cousins 228. Emptiness 229. Inspiration 230. Reminders that the small things count 231. Taking back necessary control 232. Taking good care of my own heart 233. New baby niece! Welcome to the world Imogen Katie! 234. Justin time 235. Discovering old books 236. Mowing the lawn 237. BEAUTIFUL weather! 238. Shorts, shorts, shorts 239. Champagne 240. Swing seats 241. People who KNOW me 242. Good preaches 243. New car 244. not so much productivity 245. A job that I enjoy 246. Singing through the headache 247. Help for the things I don't understand! 248. Staining things with tea! 249. Singing songs with the children that I sang in primary school! 250. Going for milkshakes with Hannah 251. Rediscovering old CDs 252. "you make, all things work together for my good" 253. Working for a good boss 254. Snuggle time with baby niece 255. Celebrating Erin's 2nd birthday with family 256. Rain, grey skies, all damp, earthy and fresh-soaked 257. Planting my seeds 258. A timely email from a friend to explain 259. A story from His word to hook my story onto 260. Coffee and chats with Faith 261. Feeling a flicker of myself coming back again 262. Loving God's people, feeling his heart for them 263. Sister-girl 264. Planned visits home 265. Planting hopes and hurts in faith 266. Tumble-dried clothes 267. Check lists 268. Editorial assistance 269. Herbs in containers on the kitchen window 270. People respecting me at work 271. Being a professional 272. Phone calls with sisters 273. Watership Down 274. Winchester Cathedral 275. Beautiful scenery in Hampshire 276. Lizzie time 277. American style hospitality! 278. Pancakes with bacon and maple syrup 279. Rivers 280. Library books 281. Finding a cello teacher 282. Help with technical issues! 283. The weather being conducive to studying 284. The births of two more neices 285. Family time 286. New bookcase 287. Celebrating the life of Jo 288. Cozy house 289. Productive work 290. Getting to know the children 291. Wine and chats with friends 292. Mary-time 293. The sea